Online Tickets: Geet, Ghazal ane Gammatt: Dr. Raeesh Maniar and Kuldip Bhatt – Aug 22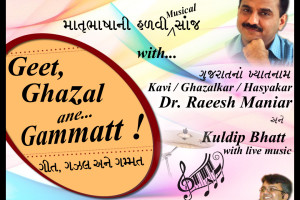 For questions – Call Vaishali Bhatt at 1-248-760-8005 / Email info@sammvad.com
*Limited Auditorium Seats. No point in waiting till last minute.
~~~~~~~~~~~~~~~
~~~~~~~~~~~~~~~
What is "Geet, Ghazal ane Gammatt" ?
It's a Gujarati Musical concert by Kuldip Bhatt with Gujarati Songs, Soothing Ghazals, Tofaani Geeto and Humorous moments with show anchored by Surat's popular Ghazalkaar, Hasyakar, Natyakar and Kavi Dr. Raeesh Maniar.
Who is Dr Raeesh Maniar?
Most of you know, and for those who don't he is an awesome anchor, PLUS …
Serious Side of Raeesh Maniar:
Raeeshbhai from Surat Gujarat, is popularly known for his daily column 'Vaat nu Vatesar' and 'Paraspar' in NavGujarat news paper. He has penned background song in Bollywood movie Ram-Leela and popular songs of Super Hit Gujarati Movie 'Kevi Rite Jaish'. His Gujarati plays 'Love You Zindagi', 'Antim Apraadh' and 'Anokho Karaar' have won many awards for best play writing. Shri Amitabh Bachchan recently launched his book on Kaifi Azami. He has translated major works of Gulzar, Javed Akhtar and Sahir Ludhiyanavi in Gujarati and has been working with Gulzar and Javed Akhtar sahab.
Funny side of Raeesh Maniar:
He has penned popular songs like "Panni Ne Pahtay to Keto Ni" and "Millennium no Manas" and is a very popular creator of countless Hazals (Haasya+Ghazals). He takes you back to your homeland with tickles using rollercoaster of Gujarati vocabulary and poetic moods…
Why Groves High School Little Theatre Auditorium as the venue?
Central location. Close and intimate feel with limited seating. Groves High School has two auditorium. One where GSOD Holi program is hosted. Little Theatre is on same premises but the entrance is from 13 Mile Road Parking lot.