'Samskrit in Symphony' by संवाद – Press Note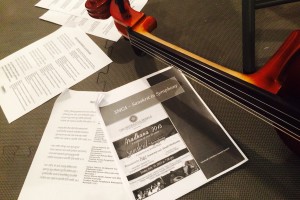 SMCA – Sammvad Music Culture Academy and SMCA Indian Youth Orchestra presented a unique musical presentation of Samskrit Stotras extracted from 2000+ years of Indian history.
The Bharatiya Temple Troy has been hosting "Aradhna" since over 25 years. Sammvad is thankful to the Bharatiya Temple cultural committee and the operations team for this opportunity to present Samskrit focused musical event at the "Aradhana 2015".
Samskrit in Symphony in News:
Summer Fun with Samskrit …
The preparation process itself was quite enriching. May it be kids who requested parents to change vacation plans so that they can attend practices, or a kid managing a keyboard and joining the rehearsal through Skype while travelling, but the excitement of the Samskrit in Symphony concert was priceless. Look at the collage of a musician-only rehearsal below.