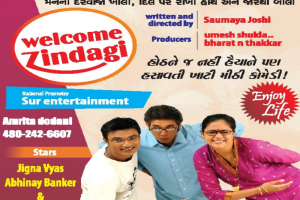 The Bharatiya Temple is hosting the Gujarati Play, Welcome Zindagi on Saturday, June 6 in the Multipurpose hall.
Welcome Zindagi written & directed by Saumya Joshi is an amazing play enacted by Saumya Joshi, Jigna Vyas & Abhinay Banker, this play revolves around the life of a middle class Mumbai family as they deal with issues arising out of lack of communication and bonding between father and son and a mother torn between love for her husband and affection for her son.

All proceeds after expenses go to the temple.